Make your own gluten-free pizza with this easy gluten-free pizza crust recipe! A thick and chewy gluten-free pizza crust that is also naturally dairy-free and Vegan. Ready for your favorite toppings!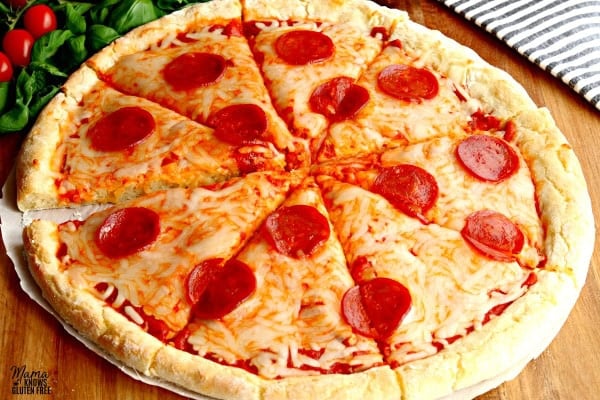 Gluten-Free Pizza
Pizza is one of my all-time favorite things to eat! And, as most of you probably know, it's really hard to find good gluten-free pizza whether it is a frozen gluten-free pizza or a pizza that is safe to eat from a restaurant.
My family's favorite frozen gluten-free pizza is from Costco. For a gluten-free and dairy-free frozen pizza, I like the Daiya pizzas, but they are expensive.
Our favorite gluten-free restaurant pizza has been from Uncle Maddio's and Blaze Pizza (they even have a dairy-free option). Oh, and I have not tried the Pizza Hut gluten-free pizza because they do not carry the gluten-free pizza crusts in the Pizza Huts in my town.
Gluten-Free Pizza Crust
One thing that all of these gluten-free pizzas have in common is their thin crusts. Oh, how I have missed pizza crusts like Pizza Hut, Dominos, Papa Johns. (See I told you I loved pizza!)
So, I set out to make an easy gluten-free pizza dough recipe that would be a thick crust gluten-free pizza. No more thin and crunchy gluten-free pizzas for my family!
How To Make Gluten-Free Pizza
Start by making the easy gluten-free pizza crust.
Preheat your oven to 100°F (the bread proofing setting). Once it gets to 100°, turn off your oven.
In a large bowl, combine the gluten-free flour, xanthan gum (leave out if your flour already has it), instant yeast, gluten-free baking powder, and salt. Stir to combine the ingredients. (photo 1)
Warm the water to 110°-115°F. I microwave the water in a large glass measuring cup for 30 seconds. I also use a thermometer to check the temperature. If your water is too hot it will kill the yeast.
Add the honey to the warm water and stir until it is dissolved.
Pour the warm water and honey mixture into the gluten-free flour mixture and mix with your mixer on low. (I used my stand-up mixer with the dough hook attachment). (photo 2)
Pour the olive oil and apple cider vinegar into the dough mixture and mix on the medium speed for 3 minutes. The dough will be very sticky. (photo 3)
Place dough in a greased ovenproof bowl (I used olive oil cooking spray) and cover with plastic wrap. Cover the bowl with a towel and place in your warm oven for 30 minutes to rise. (photo 4 & 5)
Remove the dough from the oven and preheat the oven to 425° F. (photo 6)
Pour 1 tablespoon of gluten-free all-purpose flour onto a large sheet of parchment paper. Spread into a circle the size of the pizza crust (15″).
Turn the bowl over on top of the floured parchment paper. Sprinkle 1 tablespoon of gluten-free all-purpose flour on top of the dough. (photo 7)
Gently pat the circle in an outward motion. Work from the middle and push to spread the dough out to the edge to make a 15″ circle. Use your fingertips to press down into the dough to form the crust edge. Use your hands to finish shaping and rounding the edges. (photo 8)
Place the parchment paper on a pizza pan or baking sheet. Bake for 15 minutes. (photo 9)
Remove the pizza crust from the oven and top with the gluten-free pizza sauce, cheese, and your favorite toppings. (photo 10)
Bake for another 5 minutes, until the cheese, is nice and melted and the crust is golden brown. Allow the pizza to cool a little before slicing the pizza. Enjoy! (photo 11)
Store leftovers in an air-tight container. Reheat leftovers in the oven or microwave.
Can I Freeze The Gluten-Free pizza dough?
Yes, you can freeze the pizza dough. Just let it fully rise before you freeze it. The dough can be frozen for up to three months. Thaw the dough in the refrigerator overnight before you use it.
What Is The Best Type Of Sauce To Use To Make Gluten-Free Pizza?
I recommend using your favorite gluten-free Marina sauce. I feel that sometimes the jars of pizza sauce are often too tick and lacking flavor.
What Is The Best Type Of Cheese To Use To Make Gluten-Free Pizza?
My family likes the taste and flavor of mozzarella cheese. You can use shredded or thinly sliced.
If you are dairy-free or Vegan I think the VioLife Just Like Mozzarella Shreds tests and melts the best.
Can I Make Focaccia Bread With The Gluten-Free Pizza Dough?
This gluten-free pizza crust can easily be made into delicious gluten-free Focaccia Bread. Just mix your favorite seasoning into the dough. I like 1/2 teaspoon of garlic powder, 1 teaspoon of basil, 1 teaspoon of oregano, and 1/2 teaspoon of rosemary.
Shape dough into a circle on a greased or parchment-lined baking sheet pizza pan (do not flatten like the pizza dough). Drizzle the dough with olive oil and sprinkle with sea salt (optional). Bake the bread for 25-30 minutes. Please watch your oven because all ovens are different.
Gluten-Free Flour
I like baking with a cup for cup gluten-free rice flour blends. A cup for cup rice flour blend is one that already has the starches and xanthan gum in it.
Make sure not to add any extra xanthan gum to your flour if it already has it in it. If you do you will get gummy pizza dough!
I like Pillsbury gluten-free flour. Not all gluten-free flours are created equal. You may experience different baking results depending on the gluten-free flour blend you choose.
Can I Make This Pizza Crust With Almond Or Coconut Flour?
No, but if you are looking for a recipe that uses almond flour try Wholesome Yum's Paleo Low Carb Almond Flour Pizza Crust.
Pro Tip For Measuring Flour
The best way to measure gluten-free flour is the "spoon & level" method. Using a spoon, scoop the flour into the measuring cup. After you've spooned the flour into the measuring cup, use the back of a knife to level off the top of the measuring cup. Friends, please do not scoop the flour out of the bag with your measuring cup.
Also, use a measuring cup made for dry ingredients (not a pyrex liquid measuring cup).
Dairy-Free Cooking
This gluten-free pizza crust recipe is naturally dairy-free and egg-free. So, that makes this both a dairy-free and gluten-free and gluten-free Vegan. Just substitute pure maple syrup or granulated sugar for the honey for a Vegan pizza crust.
I use either Violife or Daiya Mozzarella Style Shreds in making my dairy-free and gluten-free pizza.
Some of my favorite dairy-free alternatives that I like to cook with are almond, cashew or coconut milk. I also like baking with coconut oil or Smart Balance butter.
Gluten-Free Pizza Crust
If you are tired of thin and crunchy gluten-free pizza crusts, then I've got you friend! My gluten-free pizza crust recipe is super easy to make and requires no kneading.
The pizza crust is thick, soft and has just the right amount of chewiness.
Making your own gluten-free pizza crust is so worth it! No more frozen gluten-free pizzas or overpriced pizzas from restaurants.
If you are a pizza lover like me, you will love my recipe for easy gluten-free pizza.